PowerStation offers a wide range of activities for young people aged 8 - 19 to engage in and enjoy. This includes a number of age specific drop in sessions with a variety of themes and workshops including: sports, music, cooking, health and wellbeing, art and much more.
Our youth club is open Wednesdays - Sundays. We offer a space to hang out with your mates and a chance to get involved in some activities. During the School Holidays we offer free activities for young people so keep checking up on what we have going on.
Young people have access to our Music Recording Facilities and Rehearsal Band Room operated by our dedicated music engineer. PowerStation is currently developing its music offer to also have a Live Recording space and is supporting young people in specialised music events such as band nights and working towards performing at the AfC Youth Awards and other events.
Young people have access to our gym and sports hall. They can come and use the fully equipped gym and a personal trainer for young people to incorporate exercise into their daily routine and set goals for themselves.
We have an art studio which young people have full access to and the resources and equipment in order to make art work to take home.
We also have specialist mentoring staff to discuss and support across areas of risk such as mental health, sexual health, substance misuse and many others. Support of this nature is provided on request and we always treat issues of this type with the care and sensitivity they deserve.
Latest programmes of activities

​Autumn programme coming soon.
Facilities
Music Production and Rehearsal

If you are a performer, songwriter, band or producer we can offer you state of the art facilities to work on your project. Powerstation has a digital recording studio with Logic Pro X, fully equipped with outboard and a good collection of microphones.

Our rehearsal room is fully equipped with a PA system, drums, amps and instruments. All you need to do is plug in.

Both these facilities are available FREE on open club evenings. Our recording studio can be booked after school between for studio or band practise sessions Wednesday - Fridays during the day.
Sports Hall Hire

We have a large purpose-built sports hall that can accommodate football, basketball and badminton, volleyball, circuit training, group games, table tennis, boxing, or if you need a space for judo or karate, boxing, dance groups, theatres, or a music performance and much more.

Please contact us for further details.​
Gym

Come and use the fully equipped gym and a personal trainer for young people to incorporate exercise into their daily routine and set goals for themselves.
Art Room

Come and take part in a range of Art activities from Clay, painting, drawing, tie dye and much more. We welcome young peoples ideas for art activities and we try to order equipment when they give us their feedback on what type of art they like to do.
Learn To Cook (currently running but with reduced numbers)

Gives young people the skills and knowledge needed to make healthy food choices for themselves; it empowers young people so that they can look forward to a healthier future.

Practical cookery has health, social and educational benefits:

Health: young people learn about basic nutrition, how to prepare healthy and tasty dishes from fresh ingredients and to cook in a safe and hygienic way.
Social: young people become more independent, work together and learn about other cultures through food. Young people can share skills with family and friends.
Educational: young people learn a practical life skill. Some young people can achieve an accredited qualification in cookery.
Services

In addition to activities, the Powerstation also recognises the physical and emotional wellbeing of young people. We offer specialist services or can direct young people to the appropriate services. These include:

Employment support services
Condom distribution scheme for young people with the new C-Card system.
South West London Chlamydia Screening programme for young people under 25 years.
The Duke of Edinburgh's Award.
Contact Us
Danielle Brooks-Hutchinson: Cluster Support Youth Worker - North East Cluster
Phone: 020 8288 0876 Mobile: 07864 615077
Email: danielle.hutchinson@achievingforchildren.org.uk
Social Media
Insta: afc_powerstation
Insta: powerstation_photography
TikTok: afc_youthservice
Twitter: AforC_info
Find us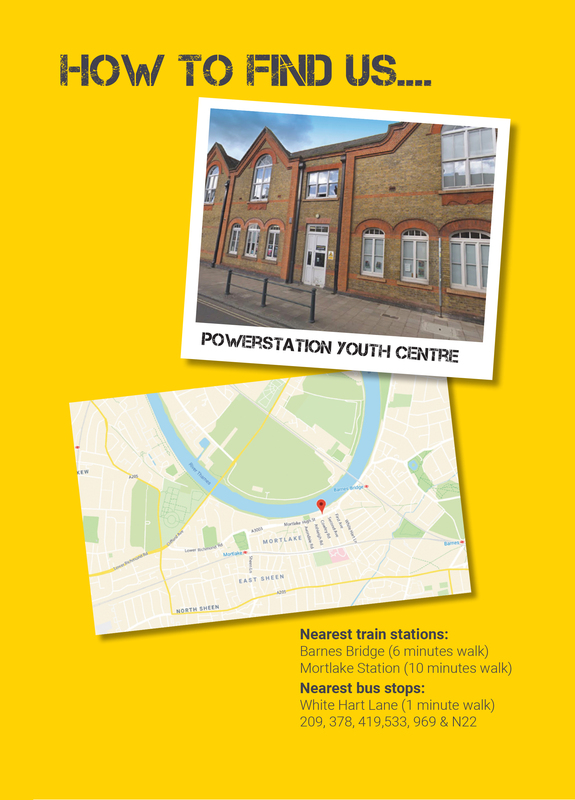 Plan your journey to Powerstation Youth Centre (opens a new window)