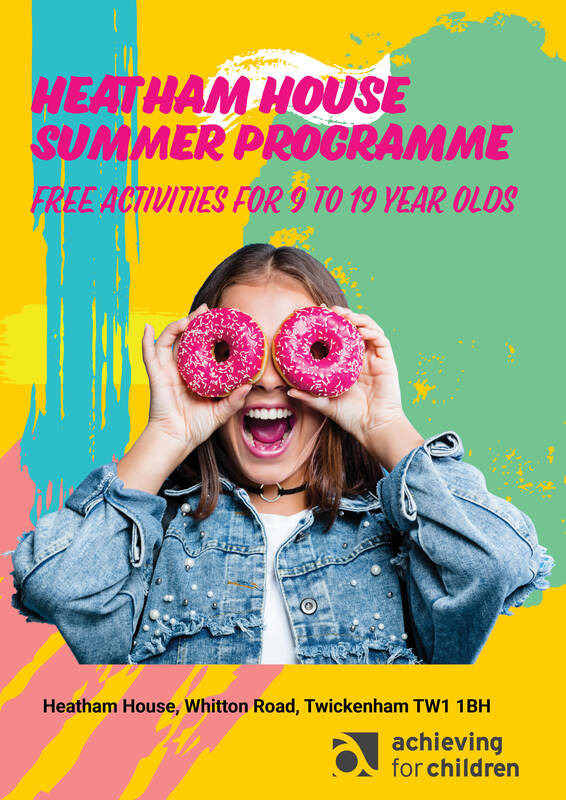 The summer programme is our most important time of year. This year we've got an action-packed six weeks of sports, arts, music, fun, educational and developmental based activities that are available free of charge to young people aged 9 to 19 years.
Activity descriptions

Full descriptions of each activity, dates, age ranges and times can be found on our Eventbrite booking page or the programme but these descriptions should get you started.
Heatham House Summer Programme (pdf)
Art

Unleash your creative side in our engaging art sessions. Details of what we'll be doing in each session will be available on Eventbrite.
Breakfast Club

Start your day right with a healthy breakfast and chill out time with our youth workers before getting involved in a day of activities.
Cooking

Cook up a storm in our fun cooking classes. Details of what we're cooking in each session will be available on our Eventbrite.
Cosmic Martial Arts

We've partnered with the amazing people at Cosmic to offer a limited amount of free spaces to their fantastic inclusive martial arts camp. Complete beginners are welcome.
Dance

Get your dancing shoes on and come shake a leg with dance instructor Nana. Learn routines to pop, rap, R&B and afrobeat in sessions that will leave you with a smile on your face and some moves for the dancefloor.
Garment printing

Show your t-shirt, hoody or maybe a tote bag some love and give it a new design during this session with our vinyl cutter and heat press.
Glove Boxercise

Instructed by Technogym's Coach Tom McClelland. Exciting boxing and fitness classes with its very own boxing rig are the most fun you can have while wearing boxing gloves.
Graffiti workshop

Our friend and professional graffiti artist, OneTwoGraffiti, will introduce you to the skills needed to create your own masterpiece.
HH Lates

Our Friday night sessions that have the full youth centre facilities available as well as special activities and events. More info will be available closer to each session.
Jamming Sesh

Can you play guitar, bass, keys, drums or any other instrument and want to find people to jam with or learn a song? Then this is the session you need in your life. Held in our downstairs rehearsal rooms, we have instruments that can be borrowed for the session if needed.
Lighthouse Project

Fun and friendly session for young people with autism and ADHD. Please speak to a member of the team before attending.
Multi-sports

Opportunity to access our fantastic outdoor facilities for some fun and sunshine. We've got footballs and basketballs but please bring a skateboard if you can.
Music production

Sing, rap or make beats in a one-to-one or small group session with our music industry professional youth workers in our well-equipped music studios.
Natty Health

Delivered by professional personal trainer Natty Health, these small group personal training sessions are designed to kick-start your exercise programme or enhance whatever exercise you currently undertake. Fun, friendly and inclusive these sessions are for everyone no matter where you are on your health journey.
No Straight Answer

Our very popular weekly session for LGBTQIA+ young people. An opportunity to have fun, meet new people and get advice and guidance. Please contact us for time of session.
Photography

Intro to photography sessions ran by our fave "Her With the Camera", teaching you all the tips and tricks for you to capture that perfect shot.
Podcast

With a different subject each session this is your opportunity to get your opinions heard and take home a recording of your very own podcast. Details of what we'll be discussing in each session will be available on Eventbrite.
R.A.P

Group session for young people interested in making urban music.
Stay Safe

Female safety, awareness and self-defence skills taught by our good friends at Cosmic Martial Arts. Enjoy yourself whilst learning how to stay safe.
Getting booked in
The full programme can be booked at heathamhouse.eventbrite.com (booking will be opening soon so keep checking back)
We hope to see you soon.
The Heatham House Team
Heatham House Lead Youth Worker
Email: dempsie.earles@achievingforchildren.org.uk
Phone :020 8288 0950
Booking site: heathamhouse.eventbrite.com