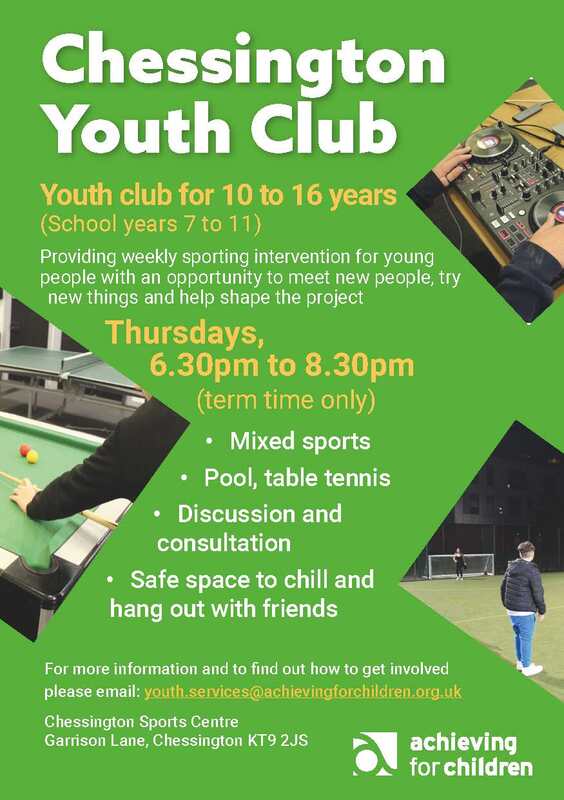 A SouthSide Social

Thursdays from 6.30pm to 8.30pm

Chessington Sports Centre (located in Chessington School)

Garrison Lane,

Chessington,

KT9 2JS

Drop in youth club for young people to socialise and engage in positive activities such as sports, games, music, planning trips and more.

For school years 7 to 11.
What we offer
At Chessington we provide a wide range of positive activities for young people, activities include:
art
games
PS4
Nintendo Switch
movies
sport
music
cooking
discussion
AQA awards*
trips and loads more
* The AQA Unit Award Scheme is an important pathway for young people to receive accreditation for their achievements. It provides a wide range of units which are differentiated, making accreditation accessible to all pupils regardless of their ability.
Contact us

Gary Weston-Shaw
Kingston Lead Youth Practitioner
Phone: 07717 541 616
Email: gary.weston-shaw@achievingforchildren.org.uk

Kyle Kinsella
Detached & Community Venue Lead Youth Worker
Phone: 0759 7528 750
Email: kyle.kinsella@achievingforchildren.org.uk
Location
Chessington Sports Centre (located in Chessington School)
Garrison Lane,
Chessington,
KT9 2JS
Nearest public transport
Bus
71, 467 (1 minute walk)
465 (3 minute walk)
Train
Chessington South Railway Station (3 minute walk)
Social media
Follow us on social media to stay up-to-date on everything that is happening!
Instagram
@afc_kingstonyouthservice
@afc_dickerage
TikTok
@afc_youthservice