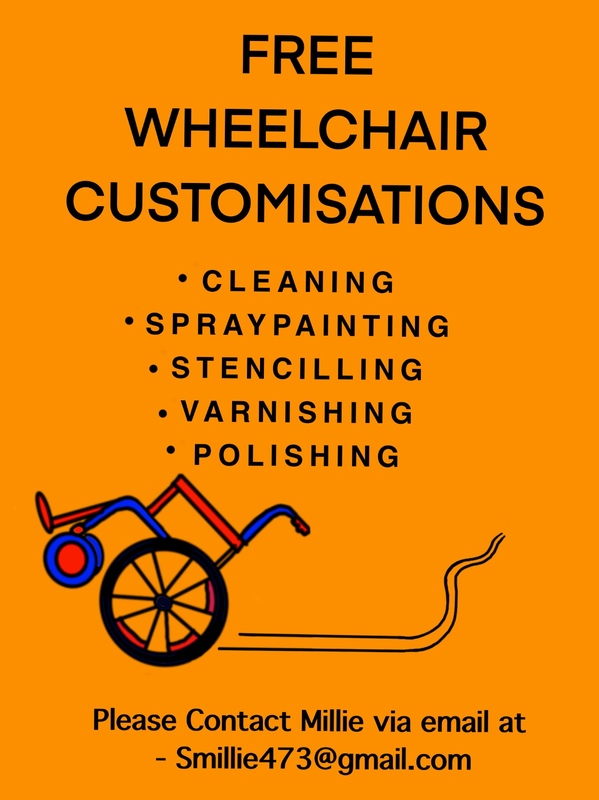 Wheelchair art project - by Millie
I started cleaning and customising mobility vehicles in lockdown, when my friend Hugh asked me if I could make him a stencil number plate, for his power chair Shadow II.
Shadow II was once an old rusty chassis that Hugh salvaged many years ago. He'd spend years doing her up. I was astonished at how much work he'd put into her and in awe of how he spoke of and to her as if she was an entity in her own right!
As we began to customise her Hugh guided me through the process step by step, in fact he did most of the work himself! I was just his hands - in essence he was creating in and through me.
I began to see that a mobility vehicle is much more than an object, but an extension of the person who occupies it. A chair offers a level of independence to those typically restricted by their mobility limitations and in-turn needs just as much care and attention - that's when I had the thought of offering a free service for chair users so they can ride out in style at no cost.
I suffer with PTSD and have been struggling with my mental health during lockdown, and Hugh has and continues to support and encourage my creativity and offers me responsibilities to commit to - which has given me a much more structured routine. He has been an invaluable part of my self development through art and has given me the confidence to take on bigger projects like painting Queens Road.
Millie
Update!

Millie is expanding the project and will also be offering custom wheel plates !