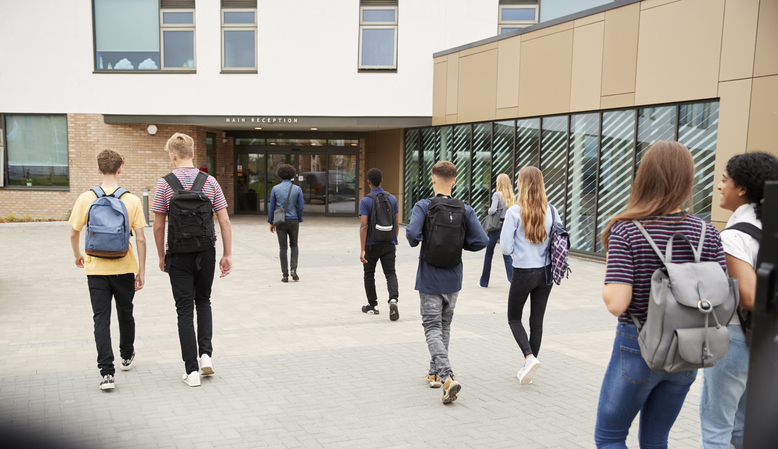 Your social worker will assist you with:
exploring and finding apprenticeships
finding work and interviews
volunteering
college and university applications
TOP TIP

TheWAYUP! is an innovative new game that helps students make better, more informed choices about their future!

Using real-world data, it gamifies important life decisions including A-levels, apprenticeships and university course choices. Based upon these decisions, the game then simulates the occupations available to players and the first five years of their graduate lives!

Funded by The Department for Education, TheWayUp! is a fun and engaging app that provides up-to-date information on the long-term consequences of education and career choices.
Virtual school
Choosing what to do after Year 11
Deciding which college, 6th form or training you will go to or do after completing Year 11 is a big decision and it will be important to consider a few options before making your final choice. Your key professionals will provide advice and guidance about destination planning as part of your Year 11 'PEP meetings' and as part of your pathway plan to help you set out goals for your future. For some young people, the change from Year 11 to further education can be challenging; especially if you are also moving home at the same time or at a later stage. Your social worker and the Virtual School will work closely with you to make sure any changes that might affecting your education happen as smoothly as possible.
The government expects that all young people are in full time education, training or employment until 18, by which point you will have started on a long term pathway towards your goals for the world of work. It will be important to ensure you are 'job ready' by having an up to date CV, National Insurance Number and bank account. Apprenticeships can be a great way to enter the workforce, providing on the job training at many levels and allowing you to earn as you train. However, lots of young people enter the workforce starting with casual work that can fit around their studies and this is a great way to earn extra money while you are studying. The Virtual School can provide additional advice and guidance about careers planning; further education options, CV's and job interviews as part of your transition to 'Leaving Care'.

Money to study
All young people aged 16 to18 who are 'Looked After' and study full time are entitled to a bursary, which will be paid to you by your college, 6th form or training centre. Please click on the link below for more information about the bursary. If you to continue to study at college from age 19, then there is advice available about Student Finance options to meet the costs of some courses which are no longer offered free after 19. All colleges and 6th forms have a Designated Person who supports young people in care, and care leavers and they will be able to advice you about support available.
Bursary Fund Guide on the GOV.UK website

Support to study from Virtual School
The Virtual School will work with you to discuss your support needs, and how best we can work together to support you through your further education journey once you have left school. Your views about how we work together will be set out in a data sharing agreement as appropriate so that your key professionals are clear about your wishes. Many young people tell us that they would like to continue to have termly 'PEP' reviews, and this is a good opportunity to meet at least once a term with your social worker, designated person at college or 6th form and virtual school case manager to make sure that you are on track and receiving the support you are entitled to. The Virtual School will also track your attendance and progress so that if there are any difficulties, we can offer you support. Support may include guidance about your options, advocating for your at college or 6th form or access to additional revision resources or tuition if needed and young people can request additional support by contacting their social worker or Virtual School as needed. We can also provide careers guidance and advice about job hunting, or step-by-step planning for university if that is your goal.
University applications
We support care leavers in their educational pathway and provide advice and guidance with higher education e.g. UCAS application, personal statement, student finance, campus visits. We also assist our care leavers in the transition to university. Your personal advisor will be able to help you with all of this.
TOP TIPS

The Propel website (run by Become, a charity for children in care and young care leavers) also has useful information on support for young people for university.

The Student Room (TSR), the UK's biggest and most popular education website, used by over 70% of all students every year.

The best support for students often comes from other students - the people who are facing exactly the same challenges as you or who have just managed to overcome them.

TSR is a student community that exists for every student to use to support each other – whatever your background. From GCSEs to University, to landing a job and everything else life decides to throw at you.
As a care leaver, you would be considered as an independent student, which means you would get the full loan amount based on where you study. You will be choosing 5 or 6 universities on your UCAS application - do some research on this, including what course you want to do and what support the universities give to care leavers. You should then speak with your personal advisor about the support the universities offer to care leavers.
It is recommended that you go to the open days at each of the universities you have chosen. We will cover the cost of this, but please speak with your personal advisor, as they can go with you to the open day. We recommend that you make an appointment with the student financial advisor at the university to discuss your financing and budgeting, as they will be able to help you with any financial issues whilst you are at university.
If you are in Year 11 or Year 12, and you wish to go to university, speak with your personal advisor about the things you need to apply to university and student finance.
If you have a disability, and are going on to university, there is extra funding to pay for equipment and/or mentors. Please speak to your personal advisor about this at the same as when you speak about your student funding.
We will let you know by letter or email when Student Finance England launches their application process. But your school might inform you too. Your personal advisor will help you do your student loans application.
Support for university applications should also be outlined in your Pathway Plan, including checking your funding, remembering passwords, and accessing the portal.
Kingston University
Kingston University provide a package of support for care leavers, young independent students, and young adult carers. Their support package is called KU Cares.
The KU Cares package includes financial support, access to year-round accommodation and a deposit fee waiver for our Halls of Residence, access to internal and external opportunities including placements at the University and becoming part of our Student Ambassador team. This is in addition to advocacy across the university and within your local authority and a dedicated KU Cares team to support you through your application, time at University, graduation and beyond. You will be eligible for our pre-application support, which includes their Head Start summer programme.
Kingston University provides the following support:
Pre-application support:
Tailored visits to the university for groups of care leavers, or individual care-experienced young people (and their supporters) for insight into Higher Education, different routes into University, guidance around the UCAS application process and Student Finance. These can be arranged through Achieving for Children Leaving Care or Virtual School Staff.
Contact with the designated member of staff for care leavers (via the KU Cares scheme) for 1:1 pre-application guidance.
Support before you start at Kingston:
Contact with the designated member of staff to answer queries, and linking up to relevant university services before you arrive.
Priority place on our Head Start events which help students get settled in before they enrol.
Access to an existing KU Cares Student Buddy to help you settle in during your first term.
Support when you're here:
Access to a £1500 KU Cares Bursary for each progressive year of study.
Priority access to the £2000 Kingston Bursary (1 year bursary only, additional eligibility apply).
Access to 365 day accommodation in University Halls of Residence if you need it (across the duration of your undergraduate course).
A designated member of staff to be a single point of contact for support.
Access to additional, paid opportunities to enhance your employability.
Social events to meet other KU Cares students including access to the student-led network.
Support as you graduate:
KU Cares will cover the cost of your graduation ceremony including gown hire, two guest tickets, and a photo package.
An Outduction meeting to help you prepare for life after university.
A graduation bursary to help financially as you leave university.
Access to the University's Career's Service for 3 years after graduation.
Tailored information, advice, and guidance to help you make those next steps.
If you have any questions or are unsure of your eligibility, please email kucares@kingston.ac.uk
St. Mary's University
St. Mary's University, Twickenham, is a friendly campus university in Strawberry Hill, with approximately 5000 students. St. Mary's offers a range of courses from the faculties of Education, Humanities & Social Sciences, the Institute of Theology, and Sport, Health & Applied Sciences. The campus is known for its sports facilities, including the Sir Mo Farah Athletics Track, where Sir Mo trained as a long distance runner. The university recognises the need to support students who have previously been in the care of their local authority. Support for care leavers includes:
Advice and Appointments with the designated member of staff for care leavers – just email studentfundingservice@stmarys.ac.uk. This dedicated member of staff can liaise between care leavers and the other areas of the university, aiming to make it easier for these students to get the most out of university life.
Care Leavers Bursary – this has no application form, and is allocated based on UCAS applications (if students identify themselves as care leavers), or if unsure about eligibility, you can contact studentfundingservice@stmarys.ac.uk to ask for more information.
Other financial support includes the Hardship Fund (care leavers are a priority group for this funding if they need it), and there is also the Emergency Summer Fund, and Graduation Fund to help cover these costs at difficult times of year.
Year-round accommodation is made available for care leavers.