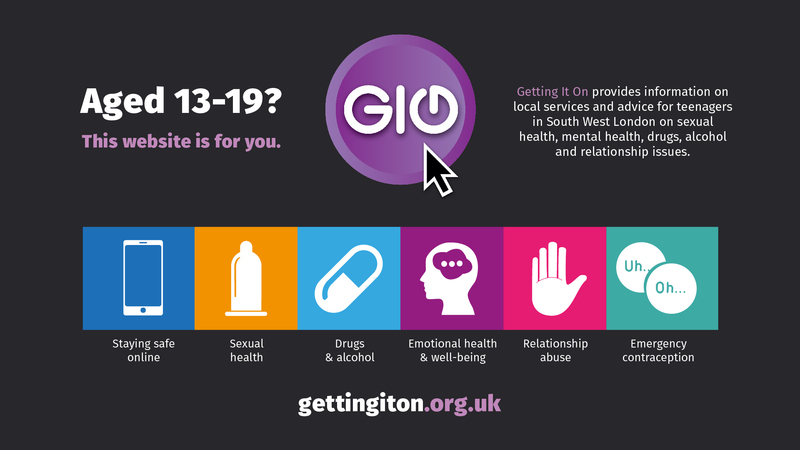 ↵There are websites where you can search for sexual health services in your area:
Find a service with 'Getting it on (GIO)'

The Getting it on website gives advice on:

sexual health
sexually transmitted infections - contraceptive
emergency contraceptive
pregnancy
LGBTQ questions

The GIO website for 13 to 19 year olds in SW London also provides information and service listings around emotional & mental health issues, drugs & alcohol, relationship problems and lifestyle advice

NHS service finder: Find a sexual health service near you

Visit Sexual Health South West London website for a full list of clinics across Wandsworth, Richmond and Merton.

The Wolverton Centre
This is a dedicated Sexual Health Clinic open Monday to Friday. The centre is located on-site at Kingston Hospital. The clinic specializes in sexually transmitted infections (STIs), contraception, HIV, and specialist genitourinary medicine services.
All consultations are confidential, free and no referral is required from your GP.
To attend, telephone 020 8974 9331 to book an appointment or simply drop into one of our walk-in clinics

As part of its provision, the Wolverton runs a friendly and confidential service for Young People aged 18 years and under called The Point, though young people can attend any of the clinics.
It also offers the Connect Service, a relationships and sexual advice service for people of all ages with learning difficulties, including autism, aspergers and ADHD.
For information about service times, walk in and booked clinics, see www.sexualhealthkingston.co.uk
Contraception & Sexual Health Clinics (CASH)
Community Contraceptive and Sexual Health (CASH) clinics are run by Your Healthcare. Their non-judgemental, free and confidential service welcome all genders, sexualities and age groups. Walk in and appointment services are offered, including:
Contraception: long acting methods, for example: implants, IUD/IUS (coils), injectables and the pill.
Emergency contraception
Sexually transmitted infections and HIV testing
Pregnancy testing and options
Treatment for chlamydia infection and follow-up
KU19 health services for young people aged 19 and under
KU19 is Kingston's free health service for young people aged 19 years and under provided by Your Healthcare CIC.
Young people aged under 19 can also message KU19 on 07781 488019 (text only, Mon-Fri 9am to 5pm) where a nurse will be able to help you
For health advice and information, including advice on sexual health, contact KU19 or drop into one of the KU19 clinics around the borough. No appointment is necessary.
Services available at the clinics include:
free condoms
emergency contraception
Chlamydia and Gonorrhoea screening
contraception
advice and information
pregnancy testing
You can contact KU19 or drop into one of the KU19 clinics around the borough (you don't need an appointment).
Local pharmacies or chemists
At many pharmacies, you can get:
free emergency contraception ('morning after pill') for those under 25
chlamydia screening for those under 25
gonorrhoea screening for those under 25
See a list of pharmacies that offer free testing and emergency contraceptive.
Your doctor or GP surgery
Most GPs offer:
free contraception for all ages, including long acting reversible contraception (LARC) such as implants and coils
free Chlamydia testing for 15 to 24 year olds
free Gonorrhoea testing for 15 to 24 year olds
Some local GP surgeries offer contraception and sexual health services to those not registered with the practice. Please call individual practices to check.
Find a GP near you using:
Spectra
Spectra work with diverse communities to improve the positive and informed health choices of individuals. Non-judgemental and peer-based services include: health checks, HIV testing, groups (including for trans, non-binary, genderqueer and questioning people), free condoms, counselling and one to one support.
You can also Visit the Disrepect Nobody website for range on information about consent and different forms of abuse