↵
If you want more information in regards to exploring your sexuality, you can download our leaflet:
Emotional Health Service LGBTQ leaflet (pdf)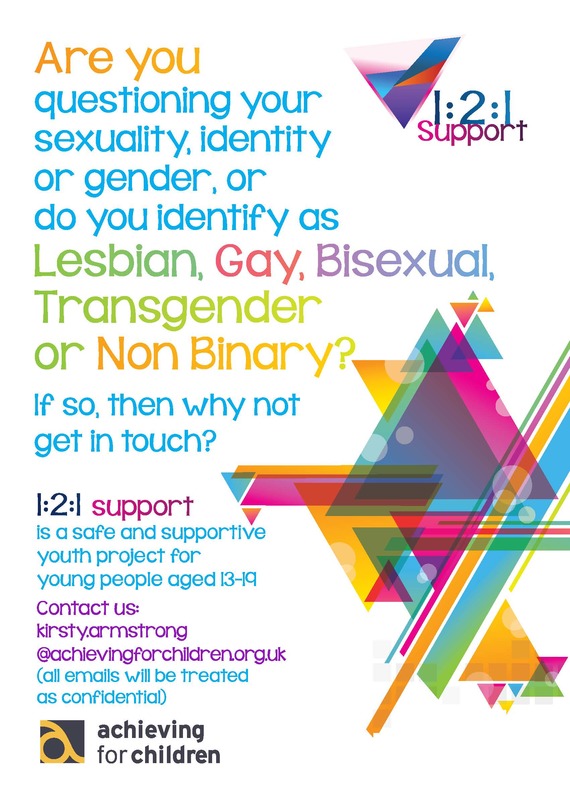 ​If you are unable to talk to your family or friends about your sexuality, then an alternative would be to seek confidential advice from a professional, such as one of our youth workers.
No Straight Answer is a drop in session for young people (11 to 19 years old) who identify as LGBTQ+. Activities include music, cooking, pool, table-tennis, art, chill out, sexual health information and more.

Heatham House Youth Centre in Twickenham on Fridays 6.00 to 8.30pm

Contact:

Dempsie Earles
Heatham House Lead Youth Worker
Achieving for Children
Phone: 020 8288 0950 Email: dempsie.earles@achievingforchildren.org.uk
Getting it on (opens a new window) contains information and services for 13-19 year olds on sexual and mental health issues, drugs & alcohol and relationship problems in Kingston and Richmond, including LGBTQ+ (opens a new window)
Kingston LGBT Forum (opens a new window) host a variety of social events, from monthly coffee morning to their annual BiFest event. Includes a community blog to discuss thoughts and opinions that matter to you.
LGBTQ Clinic at Wolverton Centre (opens a new window)

This LGBTQ clinic is a dedicated walk-in clinic on Wednesdays from 5:00pm – 7:00pm. However, you are welcome to attend any of the wide choices of clinics offered at the Wolverton Centre. See www.kingstonhospital.nhs.uk (opens a new window)

All members of the LGBTQ Clinic Team are skilled and experienced at addressing the sexual health needs of people who identify as LGBTQ. The comprehensive offer includes Hepatitis vaccinations, HPV vaccinations (Human Papilloma Virus) and treatment following HIV risk (PEPSE). All information you provide is STRICTLY confidential and will not be disclosed to anybody else other than the Wolverton Centre staff without your prior consent.
Free2BAlliance (opens a new window) offer a safe space for young people questioning their sexuality or identifying as LGBTQ+, to explore their feelings, and develop skills and strategies to build emotional resilience. They also offer a youth group 13-19, and a junior youth club 9-13, and 1:1 mentoring.
For a better understanding of terminology, visit The National LGB&T Partnership Terminology Guide (pdf)