↵
The services on this page are primarily for LGBTQI+ people and their families, offering helpful resources and guidance, as well as 1 to 1 counselling and support groups.
If you are in need of urgent assistance or support, you can call:

LGBT+ Switchboard on 0300 330 0630 (open 10am to 10pm)
Samaritans on 116 123 (open 24 hours a day)
Childline on 0800 1111 (9am to midnight)

or text 'Switchboard' to 85258 (open 24 hours a day) for a text chat.
Local Support
​

Getting it on (opens a new window) contains information and services for 13 to 19 year olds including LGBTQI+ (opens a new window)
Local forums

If you are over 18, there are local forums that you could join.

Kingston LGBT Forum (opens a new window)
​

The Wild Mind project(opens a new window) is offering wellbeing support for the young LGBTQ community in Kingston and Richmond.The Wild Mind Project is offering a safe, confidential space in nature for you to share your feelings with like-minded young people who are struggling just like you. A typical 2-hour session might include a walk in nature, conservation work or gardening, combined with a creative activity and a chat, where you can choose to share your thoughts and experiences.
Pan London Support
The Pan- London CouRAGEus Project (opens a new window) supports Black and minoritised young women who are survivors of gender-based violence . This includes those from ethnic minority groups, LGBT+ and disabled young women.
NAZ (opens a new window) is a BAME-led sexual health agency working to address sexual health inequalities in BAME communities. NAZ have 29 years of experience working across London to provide culturally specific interventions to BAME communities disproportionately impacted by poor sexual, reproductive and HIV outcomes.
​

Gay's The Word Bookshop (opens a new window)

This bookshop in London is a place to find out about resources and information about coming out, medical and legal advice advice, and a range of LGBT-specific organisations (opens a new window). If you're not sure where to begin, the Switchboard: LGBT+ helpline (opens a new window) is a great place to start.

Gay's The Word is often used by teachers, librarians, and academics to source LGBT+ books for their research or borrowing collections, using the staff's comprehensive knowledge to find the best books for the purpose.
London Libraries LGBTQI+ Young Adult book Ebook collection (opens a new window)
London Friend (opens a new window) is a charity that supports the health and mental wellbeing of the LGBT+ community in and around London. They offer 1-to-1 counselling and a drug and alcohol support service called Antidote (opens a new window) (see below).
56T is a holistic sexual health and wellbeing service for all trans/non-binary people, their partners and friends (opens a new window). They are a trans-led team, who offer a safe, confidential space for anyone who anyone with sexual health or wellbeing needs. (No age limit).
Imaan is a support group for LGBT Muslims (opens a new window), providing a safe space to share experiences, with factsheets and links to relevant services. (Mainly London, no visible age limit).
National organisations
Educate & Celebrate (opens a new window) is an experienced team of teachers and youth workers who have all made their own schools LGBT+Friendly. The team continue to develop resources and programmes responding to the needs of young people, teachers and families.​​
Free2BAlliance (opens a new window) offer a safe space for young people questioning their sexuality or identifying as LGBTQI+, to explore their feelings, and develop skills and strategies to build emotional resilience. They also offer a youth group 13 to 19, and a junior youth club 9 to 13, and 1:1 mentoring.
Stonewall Youth/Young Stonewall (opens new window) mission is to let all young lesbian, gay, bi and trans people - as well as those who are questioning - here and abroad, know they're not alone. Stonewall Youth want to empower all young people, regardless of their sexual orientation or gender identity, to campaign for equality and fair treatment for LGBTQ people, and against discrimination.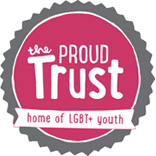 The Proud Trust (opens a new window) is a life saving and life enhancing organisation that helps LGBT+ young people empower themselves, to make a positive change for themselves, and their communities. We do this through youth groups, coordinating national and regional LGBT+ youth work networks, delivering of training, running events and campaigns, undertaking research and creating resources.
​Student Spectra (opens a new window) are funded by Children In Need to provide support for young people (13 to 18) who identify as LGBTQ+ or are questioning their gender or sexuality.
Mermaids supports transgender, nonbinary and gender-diverse children and young people until their 20th birthday, as well as their families and professionals involved in their care (opens a new window).

Reduce isolation and loneliness for gender variant and transgender children, young people and their families.

Empower families and young people with the tools they need to negotiate the education and health services.

Reduce suicidality and self-harm in the young people who contact Mermaids, equip their parents to support their children to the same end.

Improve self-esteem and social functioning in gender variant and transgender children, young people.

Improve awareness, understanding and practices of GP's, CAMHS, Social Services and other professionals.
akt (opens a new window) supports lgbtq+ young people aged 16 to 25 in the UK who are facing or experiencing homelessness or living in a hostile environment.
Gender Identity Development Service - support for young people who feel uncomfortable with their gender assigned at birth and for their families (opens a new window)
Gendered Intelligence (GI) is a trans-led charity working across the UK (opens a new window). They have resources and activities for young people and their families on their website.
FFLAG (opens a new window) is national voluntary organisation and charity dedicated to supporting families and their LGBT+ loved ones.
Switchboard LGBT+ Helpline:

Switchboard are a helpline offering information, support and referral services for LGBTIQA+ people (opens a new window) – and anyone considering issues around their sexuality and/or gender identity. The helpline is open daily from 10am to 10pm, and can be accessed by telephone on 0300 330 0630, email at chris@switchboard.lgbt or instant messaging via their website.
Hearts & Minds (opens a new window) is an innovative, young charity that provides community, intentional peer support and mentoring for young people, ages 14 to 25, experiencing mental health difficulties.
Pink Therapy is an online directory of therapists (opens a new window) who work with LGBTIQ (lesbian, gay, bisexual, transgender, intersex and questioning), and gender- and sexual-diversity (GSD) clients. (16+)
The Asexual Visibility and Education Network (opens a new window)

Hosts the world's largest online asexual community as well as a large archive of resources on asexuality. Provides email to support to people who identify as asexual and their friends and family.
Being Gay is Okay (opens a new window) is service that gives online information and advice for under 25 year olds.
GIRES (Gender Identity Research and Education) (opens a new window)

A charity that provides information for transgender people and medical professionals, including research and links to support groups.
TranzWiki is a comprehensive directory of the groups campaigning for, supporting or assisting trans and gender non-conforming individuals, including those who are non-binary and non-gender, as well as their families across the UK (opens a new window).
QueerCare is a transfeminist autonomous care organisation (opens a new window), providing training, support and advocacy for trans and queer people in the UK (and further afield). They focus on building communities which can care for themselves, and providing them with the resources - from legal support to medical equipment - to do so.
The Pink Practice is a creative in-person, online and phone counselling and psychotherapy practice (opens a new window) for the lesbian, gay, bi, trans and queer communities based in Kings Cross. (No age limit).
The LGBT Consortium develops and supports LGBT groups and projects around the country (opens a new window). Use the site's directory to find local mental health services. (No age limit).
The Beaumont Society is national transgender support network (opens a new window) offering emotional support via a weekly helpline, as well as general information and support groups.