↵
↵
↵
↵​​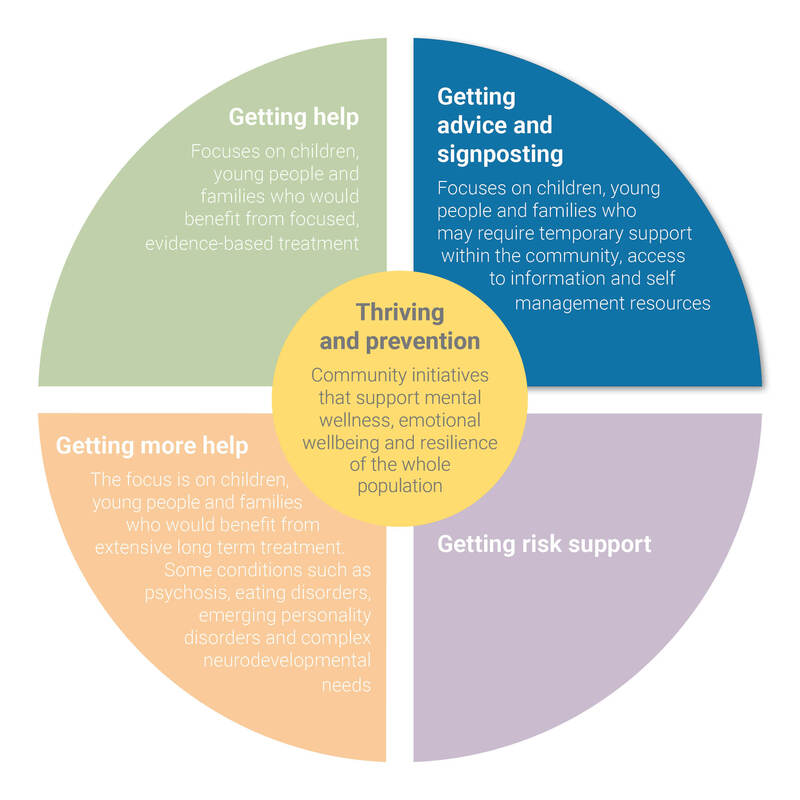 Focuses on children, young people and families who may require temporary support within the community, access to information and self management resources
Workshops, websites, leaflets and other self help resources on a range of emotional health topics
Emotional Health Service resource hub online workshop library (opens a new window) - videos and resources for parents and young people on a range of emotional wellbeing issues.
Emotional Health Service information leaflets by topic or subject (opens a new window)
​

A list of apps and other self help resources (opens a new window)
SWLSTG Children's Wellbeing Service Youtube Channel (opens a new window)
South West London Clinical Commissioning Group (CCG) Emotional wellbeing: COVID 19 resource hub (opens a new window)
Headroom is a BBC website with everyday tips, sounds to relax your mind, strategies to cope with parenting right now or films to get you talking, and help you look after yourself and your loved ones. (opens a new window)
LGBTQI+
LGBTQI+ information and support for young people in Kingston and Richmond (opens a new window)
Gender Identity Development Service - support for young people who feel uncomfortable with their gender assigned at birth and for their families (opens a new window)
Helplines and online counselling support for children and young people
Kooth is an online counselling service (opens a new window) now available to children and young people between the ages of 11 to 22, across South West London.

​
CHILDLINE is a free service available by phone from 9am to midnight on 0800 1111 or online at Childline (opens a new window)
Barnardos Support Hub (opens a new window): Online digital support, including advice and information, online counselling and a telephone helpline.
Young people experiencing a mental health crisis, can text the YoungMinds Crisis Messenger (opens a new window) for free, 24/7 support.
Hopelink by Papyrus is a digital platform for those feeling suicidal (opens a new window)
The Mix Online Counselling (opens a new window) is a free short term counselling service online.
Teen Sleep Hub is a one stop shop for all you need to know about sleep (opens a new window)
Parenting advice and support programmes
Achieving for Children Parenting Programmes (opens a new window)

Achieving for Children Chat and Play Advice Sessions (opens a new window)
Advice available on the Every Mind Matters website (opens a new window) has been developed in partnership with leading children and young people's mental health charities including Young Minds, The Mix, Place2Be and The Anna Freud Centre. It is designed to help parents and carers spot the signs that children may be struggling with their mental health and support them, and also provides advice that can help maintain good mental wellbeing. In addition to the advice for parents and carers the site also provides tools to help young people build resilience and equips them to look after their mental wellbeing.
​

The Centre for Parent and Child Support: Empowering Parents Empowering Communities (opens a new window) offers good parenting ideas based on research, evidence and experience.
Families Under Pressure is a series of short parenting videos (opens a new window) to help families under pressure.
The University of Reading developed the COVID-19: Helping Young People Manage Low Mood and Depression course for young people with low mood and depression and their parents and carers (opens a new window), or anyone who has contact with young people during the coronavirus pandemic. It is a free online course lasting two weeks requiring 2 hours of study each week.
Psychological First Aid: Supporting Children and Young People

Online Psychological First Aid training to help professionals, parents and carers support children and young people's mental health during emergencies and crisis situations (opens a new window)
LVA is a charity which teaches R.S.E (relationship and sex education) in schools and other youth settings. Their Parent Pack for parents of Year 6 and 7 children is available on their website (opens a new window). This pack includes helpful, fun and engaging resources to enable you and your child grow in confidence when talking about self-esteem, body image, emotional-wellbeing, friendships, exclusive relationships, sexuality, conception and nurture.
Helplines and online counselling support for parents and carers
Family Lives offers a confidential and free* helpline service (opens a new window) for families in England and Wales (previously known as Parentline). Please them on 0808 800 2222 for emotional support, information, advice and guidance on any aspect of parenting and family life.
Family pressures can sometimes be difficult to manage without emotional support and guidance to help. Many people feel confused by what information is available or struggle to access services close to home.

The free FamilyLine service from Family Action (opens a new window) tackles these issues in a new and innovative way by using a network of volunteers from across the country to support family members over the age of 18 through telephone calls, email, web chat and text message.
Young Minds Parents Helpline (opens a new window) is available to offer advice to parents and carers worried about a child or young person under 25. Phone: 0808 8025544
Parenting neurodiverse children
SEND Local Offer for Kingston and Richmond - Information for Carers (opens an new window)
Contact's Listening Ear Service for families with disabled children (opens a new window)

Contact helpline for parents and carers in any part of the UK with a disabled child aged from birth to 25 (opens a new window)