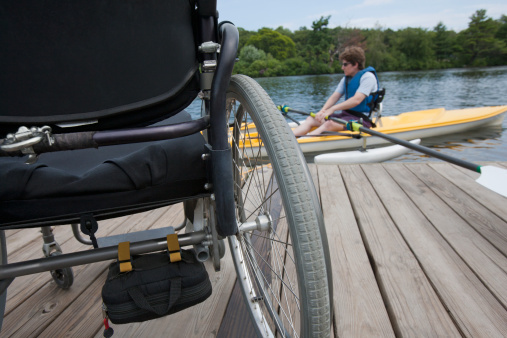 Most of our activities are inclusive and can be adapted for those who need additional support or have a disability. Activities are suitable from age 8 years - adult.
The right support
We ask that you contact us to discuss your requirements before booking so we understand and prepare to meet your needs. We may need to adjust staff ratios and need notice to arrange this. This applies even if you have attended one of our sessions before or are a member of our Aiming High Club.
We also provide a wide range of specially adapted activities and courses for adults and young people with a learning disability or physical disability.
Clubs and groups
Aiming High Club:
for 12 to 18 year olds
who live or attend school in Kingston or Richmond borough
Tuesdays from 5.30pm to 7.30pm
from April until October half term
at Albany Outdoors
Our experienced staff will help you make the most of the centre and the equipment available. The team have many years of experience and a real passion for working with young people in the outdoors.
Club members will also be invited to take part in our annual overnight residential journey on the River Thames.
From October half term to December, the club will continue to meet but at different times depending on the programme. Activities may include kayak and canoe pool sessions, dinghy sailing and powerboating.
Contact us to get a referral form or find out more.​