​​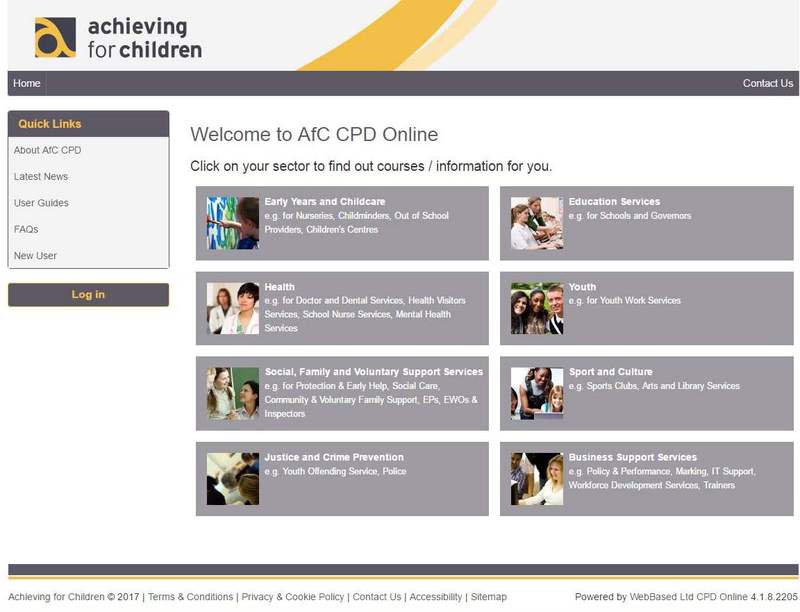 The Children's Workforce Development Team are part of AfC and we are responsible for the commissioning, delivery and quality assurance of all training for those working with children, young people and their families across Kingston and Richmond local authority areas.
We offer a large variety of continuing professional development opportunities, this includes; one day courses, conferences, network meetings, access to e-learning and accredited training. All programmes are open to a wide range of professionals from teachers, social workers and early years' practitioners to volunteers, Health Visitors and the Police.
We offer comprehensive and highly evaluated training programmes on a wide range of relevant topics. If you work with children, young people and their families we are here to help meet your training needs. We continually seek to strengthen our offer by learning from innovation and by investing in the skills and professional abilities of our workforce.
Our training offer is available on AfC CPD Online, our training portal.
How to use AfC CPD Online
You may already have an account; if so use these details to log in.
If you do not have an account you can set this up when you first visit AfC CPD Online. You will need to link your account to your organisation, which you should find listed on the system. Please call us if you need any assistance with this stage.
Select your relevant sector
When you have logged in to AfC CPD Online, follow the link click to the sector that best fits your role (eg Early Years and Childcare, Education Services, etc).
Complete/update your details
Please check carefully as we will use these details to contact you with course information. Your account details can be viewed and updated from My CPD Online on the menu bar.
Search and book online
There are many ways to browse and search for courses - using the event calendar, quick name search, or the full search events menu with multiple options.
What you can do at AfC CPD Online
If you experience any difficulties accessing information please visit our FAQs. If these do not answer your query get in touch with the Workforce Development Team.
search and view course information – including available spaces
book a place or be added to waiting list
request alerts by email of new events
view details of events due to attend and events attended
download course handouts and certificates
print training catalogues
complete training evaluations and impact questions online
You can contact the Workforce Development Team on:
Phone: 020 8831 6353