Safe Places Scheme
If you are out in the community and you are:
bullied.
picked on.
hit.
made to feel unsafe or scared.
lost.
you lose your phone or money.
Go to a place where you see the Safe Place sign.

Places that display the Safe Place sign have staff who can support you to get help. Make sure you carry your Safe Place card to help them to help you.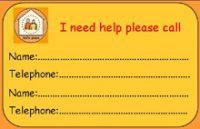 If you or anyone you know would benefit from joining the Safe Place Scheme, you can get your pack from:

Sessions House
17 Ewell Road
Surbiton
KT6 6AF

To find out more information, please contact Tracy Cooper who works for Involve (Bringing together Kingston Learning Disability Parliament and Quality Check)
Tel: 020 8547 6540
Email: tracy.cooper@kingston.gov.uk
Website: http://www.kingstonld.info/