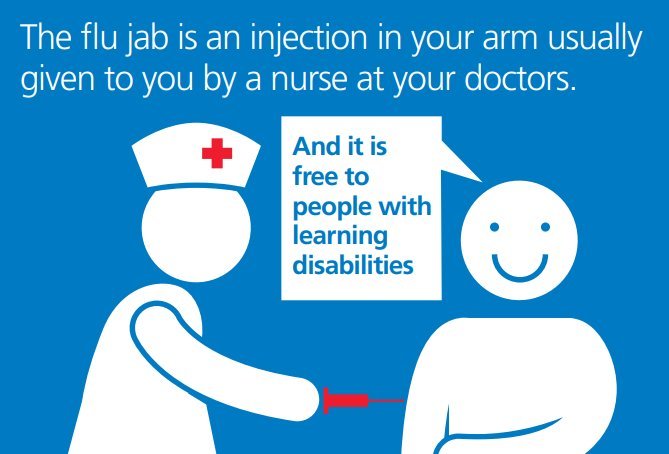 Easy Read Guide to getting a flu jab (pdf)
​
These videos are a fun way for children to learn more about a variety of health topics.

Annual health checks are free for adults and young people aged 14 or over with a learning disability.

What is an Annual Health Check?

An Annual Health Check is done by your doctor once a year. Your doctor will take a closer look at how you are doing – making sure you're healthy.

It is available for most people aged 14 and older with a learning disability at GP surgeries that offer the service.
You don't need to be ill to get a health check, but you can ask your doctor about anything that is hurting or worrying you.
It is a good way to get to know your doctor better, and for them to find out more about you.

You can find out if you can get a health check by asking your doctor.

Mencap, the UK's national charity for people with learning disabilities, has produced easy read guides and short films about how to receive extra support by joining the learning disability register.

Mencap's easy read guides, template letters, and awareness posters (opens a new window)

There is more information the Mencap website (opens a new window)
Guides have been created by the NHS to help young people and adults with learning disabilities understand about different GP services.
Council for Disabled Children (CDC) jargon busters
Children and young people with SEND meet complicated language all the time. CDC jargon busters explain policy and health jargon in clear, simple terms:
CDC Health jargon buster (pdf)