↵​
​
Welcome to the Young People's Hub of Achieving for Children's SEND Local Offer, a part of the AfC Info website.
If you are under 25 years of age, live in the boroughs of Kingston or Richmond and have a special educational need and/or disability, the Hub is a space created and developed for you with other young people with additional needs.
The Hub is split into three sections:
Accessible Information: This is where you can discover information that has been created in an easy read format, about a variety of services and support.

Stories and Experiences: Our intention is that this will be an area for local children and young people to share their

stories and experiences.



Messages and Views: This is a place for children and young people to share their thoughts, views, opinions and messages about the things that are important to them.

​
​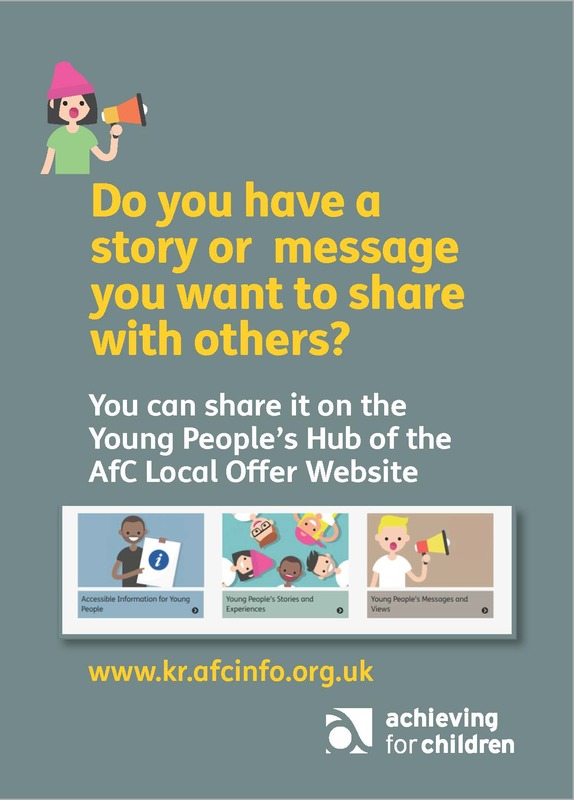 How to share your story or message
You can share your story or message in:
Words
Pictures or photos
Video clips
Voice recordings
Find out more in this leaflet which was designed and developed with young people:
When we receive your story or message we will check it is ok to publish on the Hub, then ask you to sign a permission form. If you are under 16, your parent or carer will need to sign the form too.
You can send your story or message here:
Local Offer Manager (Hub)
The Moor Lane Centre, Moor Lane,
Chessington KT9 2AA
E: sendlocaloffer@achievingforchildren.org.uk
T: 020 8547 6541