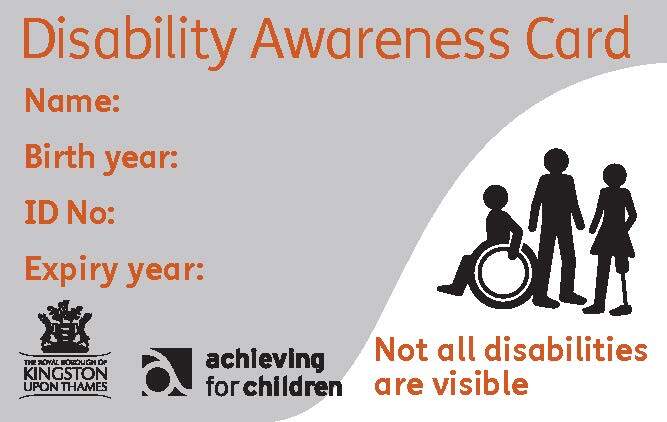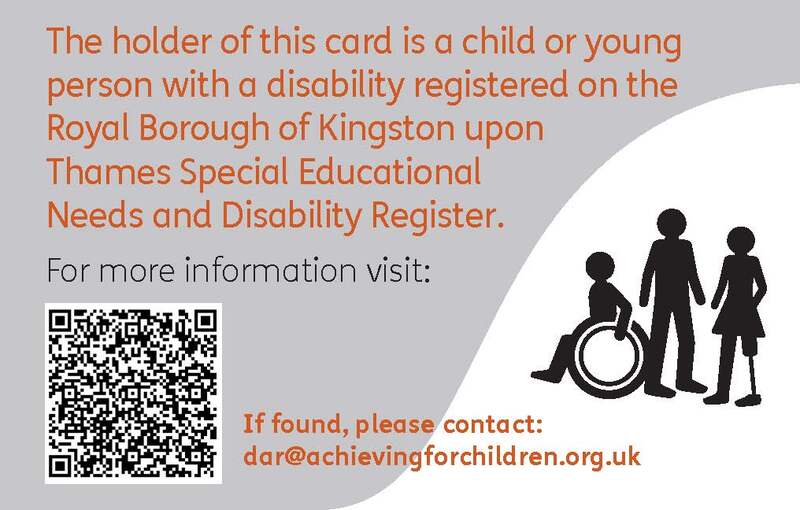 Disability Awareness Cards are issued by Kingston and Richmond children's services (Achieving for Children (AfC)) to young people with disabilities or parents and carers of children and young people with disabilities. The purpose is to avoid the need for children and young people or their parents and carers to carry paperwork proving they have a disability. This can make obtaining concessionary rates, support, or extra assistance at venues easier.
How the card was designed
We consulted with children, young people, parents and carers to design the card. The symbol, chosen by young people, is a new "Any Disability " symbol designed to encourage awareness of people with invisible disabilities (open a new window).
Hidden disabilities
A hidden disability is a disability that may not be immediately obvious. This might be learning difficulties, health, mental health or mobility, speech, visual, or hearing impairments. People with disabilities and special needs whose disability is not immediately obvious may find it hard to explain their needs.
Using the card
Disability Awareness Cards can support families, children, and young people when visiting local venues in Kingston, Richmond and nationwide. We will be letting local venues, such as leisure centres and cinemas, know about the card so they recognise it. It is a good idea to check with venues, such as theme parks, before setting off for a day out, to make sure that they will accept a Disability Awareness Card instead of the usual DLA/PIP award or diagnosis letter. The QR code displayed on the card links back to this page so that anyone wanting to know more about the validity of the card can read this information.
Blue Badge
The Disability Awareness Card cannot be used as evidence of eligibility for Blue Badge applications or used as evidence of parking concessions where a Blue Badge might otherwise be required, for example in School Street zones. This is because applications for Blue Badge cards may require additional proof of disability to confirm eligibility. This proof of disability is not required when applying for the Disability Awareness Card.
Applying for a card
If you wish to apply for a card you can do this by signing up to the Special Educational Needs and Disability Register (opens a new window) Each card is produced individually. Due to the number of applications we are receiving, there may be a period of a few weeks before you receive your card. Thank you for your patience.
Enquiries about cards
ISCD Business Support Team
Email: dar@achievingforchildren.org.uk
Integrated Service for Children with Disabilities
Moor Lane Centre, Chessington, KT9 2AA