Energise Half term clubs at the Moor Lane Centre
The groups are Energise for children aged between 5 - 8 years and Energise+ for children between 9 - 15 years old with Moderate and Severe Learning Disabilities.
We are pleased to confirm that we are going to be running the Energise groups over the school half terms. This will include May, October and February.
The sessions will be available to children who live in either the Royal Borough of Kingston or the London Borough of Richmond.

The appropriate staff ratio will be determined with discussion with the child's parent/carer, and the sessions are free to attend.

If there is a high demand for places we may not be able to offer both dates that you have requested.

How and when to apply
Next dates - October 2019
You will hear from the panel regarding a decision on xxxxxxxxx. If we have not met you before or seen you for some time, we will arrange to visit you at home to discuss any support you might need.

Contact:
Aiming High Short Breaks Team for half term Energise Clubs at The Moor Lane Centre
Gabrielle Rayner: Tel: 020 8547 5044
Email: gabrielle.rayner@achievingforchildren.org.uk
Energise@RM ( Richmond Mencap)
Next dates - October 2019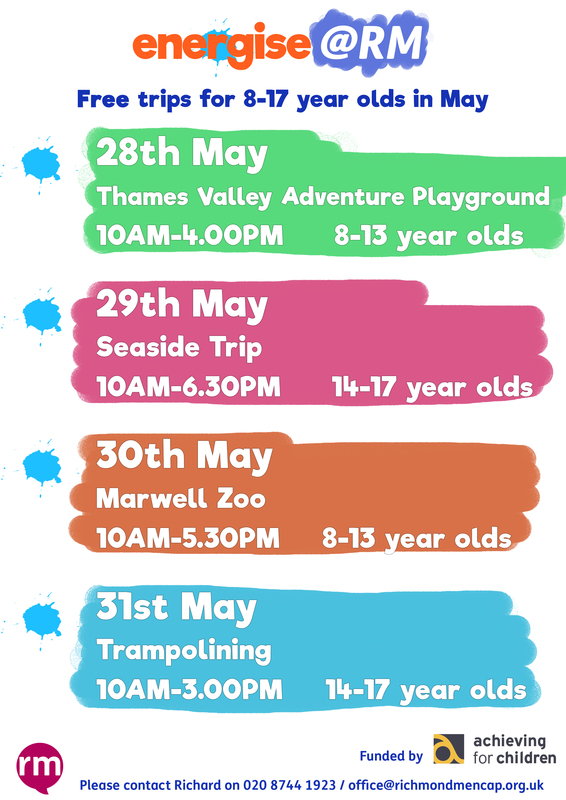 This programme is for young people aged 8-17 years old with mild to moderate Learning Disabilities, Social Communication Conditions, ADHD and other additional needs.
This service is funded for young people living in the London Borough of Richmond Upon Thames and the trips are free for everybody.
Phone or email us for more information or to make a booking. We will be happy to talk to you about the needs and requirements of your child or young person.

Please note that all activities must be booked in advance. Please read the booking instructions over the page.
Download covering letter (opens a pdf)

Download programme and booking form (opens a pdf)