SEND Futures: Our vision and priorities for 2020
Following consultation and the SEND Futures conference, we have set out our vision and priorities for 2020.
SEND Futures Conference
SEND Futures took place on Tuesday 3 July 2018 at The Stoop in Twickenham. Over 300 people from over 120 organisations and parents and carers attended. The aims of the day were to:
Celebrate inclusion and diversity in our communities
Consider progress made on implementing the SEND reforms
Reflect on and learn from examples of best practice
Continue the process of shaping and implementing changes
Throughout the day delegates were invited to respond to a series of questions and a feedback form about the full event was given out.
Download summary of responses (pdf)
There was a "Learning Wall" of free useful resources.
​
Presentations
You can download pdf versions of the presentations below:
Young People's Voices Young People introduced by Grace Over, SEND Participation Officer Achieving for Children

A Family Perspective - A Kingston and a Richmond parent introduced by SEND Family Voices

Right from the start - Rachel Seivright Nye, Headteacher, Tolworth School

A special mainstream collaboration - Ivan Pryce, Headteacher, Strathmore School Maggie Bailey, Headteacher, Grey Court School Sam Leir, Headteacher, The Russell Primary School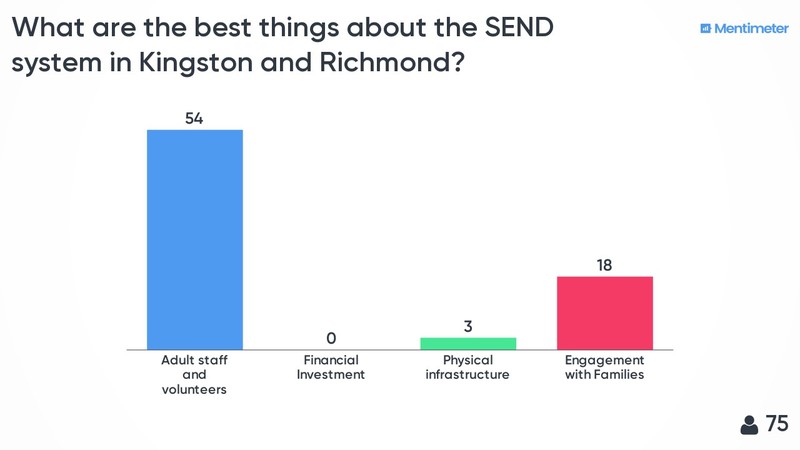 Outstanding SEND practice in a mainstream school - Elaine Ball, Headteacher, Orleans Park School

The transition to adulthood and Learning from other LA's - John Prior, Executive Headteacher and Deputy CEO Orchard Hill & College Academy Trust

Health check up - Elizabeth Brandill-Pepper, Lead Commissioner for Children's Services and Adult Learning Disabilities (Kingston) and Clinical Commissioning Group (Kingston and Richmond)

The value of the voluntary sector - Heather Mathew, Children and Young People's Voluntary Sector Strategic Lead Manager, Richmond Council for Voluntary Service Giles Hobart, Chief Executive and Lead Youth Worker, TAG Youth Club
Leading across organisational boundaries - Rob Henderson, Director of Children's Services, Kingston and Richmond Achieving for Children

The SEND Reforms: Continuing the Journey - André Imich, SEN and Disability Professional Adviser Department for Education

SEND in 2020 - Charis Penfold, Director for Education Services, Kingston and Richmond Achieving for Children