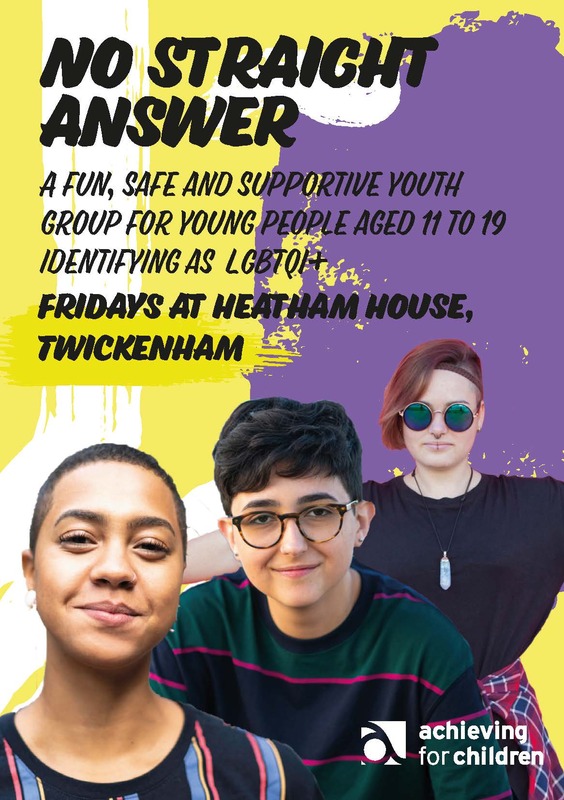 'Heatham is my safe space and somewhere I feel safe and secure.' (Young person, aged 12)
No Straight Answer (NSA) is a youth club for young people aged 11-19 (25 if they have an EHCP) who are or feel they may be a part of the LGBTQ+ community. The session is held at Heatham House Youth Centre, Twickenham one evening a week. Our aim is to provide a safe space, free from discrimination or 'outing' for young people from the LGBTQ+ community.
The members of No Straight Answer get full access to all of Heatham's activities including sport, music, cooking, and art and crafts. Each term, members are given the opportunity to devise their own termly plan meaning the sessions are tailor-made to meet the needs and wishes of its members. Young people have the opportunity to engage in a variety of fun and interesting activities ranging from garden parties and tote-bag making to upcycling fashion shows.
The session is a safe space for young people to make new friends, socialise and be themselves. Young people are given the opportunity to explore their understanding of LGBTQ+identity (including Trans and Non-Binary), relationships and mental health through activities, discussions and informative workshops led by staff and guest speakers. We run off-site trips and have an upcoming 3-day residential trip in the Summer 2022.
'It's a safe space for me. I feel like I can be myself. I can talk about my sexuality freely as much as I want. There are many activities so it doesn't feel boring. I don't feel out of place. Everyone is excepting and caring' (Young person, aged 14)
If you would like to find out more about the No Straight Answer session then please contact alex.quennell@achievingforchildren.org.uk (opens a new window)) or justin.johnson@achievingforchildren.org.uk (opens a new window)
No Straight Answer (NSA) Flyer (opens a new window)
Likewise, if you would like to find our more about the NSA team, please visit our webpage at the following link: No Straight Answer AfCinfo Page (opens a new window)
'I go to No Straight Answer because it's a wonderfully positive environment. I get to meet such a wide array of diverse and lovely people that make me feel safe and comfortable to be who I am, and I've made friends with people I wouldn't have met otherwise. My favourite part of coming to NSA is that I really feel like I'm a part of a community - a loving, accepting and fun one.'

(Young person, aged 17)